INTERVIEW WITH JAMAL IGLE
by Frankie Rodriguez
Welcome everyone. I recently was about to interview artist Jamal Igle, who had landmark runs on Supergirl (Pre- New 52), Firestorm and most recently, the Ray. Here is what he had to say:
1.) You recently just ended your 6 year exclusive contract with DC Comics. You mentioned in your blog how it was time for new things. Now it is a little bit of time later, how are you feeling? How have your fans responded?
JI: Well, the first week felt as bit weird but now I'm getting back into the idea of working for multiple clients and having to hustle a little again to secure work. I'm also doing personal work again for the first time in a very long time and that feels really good.
2.) You have taken commissions (which are listed on your webpage
jamaligle.com
) and posted Ultimate Spiderman (Peter Parker). How did it feel to draw that after so long with drawing DC characters?
JI: Pretty cool actually. The commission was from one of my regular customers, so there was a lot of freedom. I knew exactly what I wanted to do and how to approach it, so it went fairly quickly.
3.) An interesting question is, for either fans that do not know cause I could not find it, but what was your first comic book work and how were you introduced into comics? Personally, I was introduced to you during your New Warriors run (which I still own today and will own til I die).
JI: Well, my first official work in comics never saw print. It was a book called flashpoint that was written by Jim Higgins (who teaches writing at Cal Arts in the Character Animation Department. my first published work was Green Lantern #52, written by Ron Marz. How i was introduced to comics was a bit complicated because my gateway to comics was Superman the movie, starring Christopher Reeve. I fell in love with Superman as a character and that got me into comics.
4.) Looking back, how has your art evolved since you started comics? From when you started your now legendary run on Supergirl till your last issue of Ray?
JI: The basics of my style were there of course, even the line I use is still present in my early work. My anatomy has improved;I have a much better sense of pacing and page design. I have this obsession with detail in my work now that was non-existent back in the day. I hated backgrounds and now it's one of the things I'm known for.
5.) What have been some of your favorite work from over the years?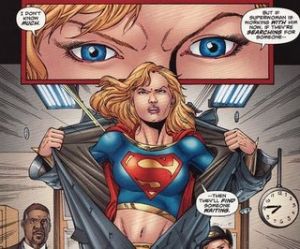 JI: There's been a lot of fun stuff. I once did a "Little Dr. Sivana" story I did for a JSA annual that still cracks me up.
6.) Who were some of your biggest influences growing up? Both character wise and artistically?
JI:Well artistically I started out as a fan of John Byrne and Arthur Adams. When I was in high School, I started reading independent comics like Nexus and the Rocketeer Adventure Magazine; so I became a fan of both Steve Rude and Dave Stevens. I also became a fan of Jerry Ordway, Jose Luis Garcia Lopez and Brian Bolland
7.) So now that you have been inspired by others, how does it feel to be an inspiration to
aspiring artists?
JI:If I think about it that way, I get nervous. I just hope that I continue to lead by example.
8.) Who have been some of your favorite collaborators? Why? Who would you like to work with?
JI: I've been lucky, the writers I've worked with are a literal Who's Who of comics. I've worked with Morrison, Rucka, Waid, McKeever, Dini, Beechen, Sterling Gates,James Robinson, Alex Simmons, Marv Wolfman, Dan Jurgens, Jay Faerber. I've worked with Al Williamson, with Jon Dell, John Sibal, Marc Deering, I've shared page space with Gary Frank, and Pete Wodds. It's been amazing.
9.) What have been favorites or has stood out to you in the world of comics or animation? Which titles?
JI: I'm loving Batman right now, but I think I read everything Scott Snyder is writing right now. I love Luther Strode, Invincible, Rachel Rising and Amazing Spider-Man.
10.) Finally, besides commissions, any hints or announcements of upcoming projects?
JI: Not yet but announcements will be made soon.