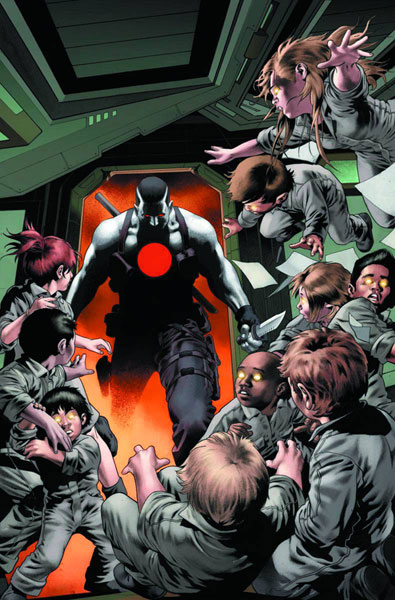 BLOODSHOT #6
Written by Duane Swierczynski
Art by Manuel Garcia & Matt Ryan (Cover by Arturo Lozzi)
Valiant Comics
FLIPPING THROUGH:
Kara and Melissa are in separate cells while Bloodshot must take on a group of super powered soldiers that Orbeck ordered to take him out. Bloodshot fights his way through the group known as Chainsaw while his nanites work on hacking into Project Rising Spirit's systems.
We get a creepy reunion of Gamma and Melissa and we start to see that Kara can definitely hold her own as she goes up against a member of Chainsaw herself. Yet, when Bloodshot gets to the basement ...
ART:
For the first time, Manuel Garcia is illustrating the entire issue. And it is good. Blood drenched. A bit gory with Bloodshot's arm being broken with bone piercing through. The imagery in this issue was very vividly gory and dark which definitely fits the mood of the book and the story. Chainsaw definitely were some interesting grunts with an oddly deformed but uniformed look, which definitely keeps with the military way and design. I give props to both Manuel Garcia and Matt Ryan for bringing this fact paced, bloody ride to life. the inks are rich as they need to be for the tone of the book. Garcia's pencils really shine this issue as they stand alone. Ian Hannin's colors really capture the dangers and darkness that this story captures with his darker colors and tones. Well done by the Bloodshot team.
WRITING:
Duane Swierczynski, you magnificent bastard I read your book and I enjoyed it. This issue definitely picked up in terms of action and drama and it was paced perfectly. The perils to our hero were very much real and I love that Swierczynski made sure that Bloodshot was not invincible. And all of his work making the nanites into a viable character that readers can care about started to really shine this issue. There was a lot of smart writing as we got to see Bloodshot, the nanites and Kara really work on their plan. The horror of Melissa seeing Gamma again was awesome.
This book from the start was gonna be messy, full of danger , perils and more. Swierczynski lets readers go on a fast paced and wild ride as more answers lead to more questions and keep you wanting more. Especially this issue. Great job Swierczynski. And I do not mean any insult to you at all with the bastard comment. 100 points to the person who knows what movie I am paraphrasing there.
OVERALL IMPRESSION:
Bloodshot #6 really picks things up and really holds your attention. The Pacing is perfect. The story is gripping. You want to know more about what happens. The thriller aspects mixed with the mystery and action really work this issue. Definitely one of the best issues of the series to date. Swierczynski, Garcia , Ryan & Hannin give you an action packed military thriller with super powers. ... and I loved every second of it this issue. Definitely an improvement over last issue.
I give Bloodshot #6 a 4.5 out of 5. It was damn near perfect.