Written by Fred Van Lente
Art by Steve Kurth, Allen Martinez & Joana Lafuente
IDW Publishing


FLIPPING THROUGH:


It's a new status quo for GI Joe as the General Joe has taken GI Joe to the public. Duke is helping General Joe run the show now … with the soldiers being public heroes for the country. While we get a few protests of the new status quo, Joe reminds Duke that they, as hero, can turn any circumstance to their advantage and since Cobra likes to slither in the dark, they will use the light. This gets a little crazy as GI Joe is getting merchandised, Shipwreak having to wear his icon gear and their missions are being chronicled by an ROTC by the codename of Hashtag.
This is after we open and then continue with a group of Joes on a mission state side. Where it turns out to be a trap and the Joes are split up with Duke being captured by a very familiar Cobra operative.
ART:
I want to point out that I was first introduced to Kurth's pencils back when he was an artist for Marvel on X-Men Legacy. His pencils were pretty good. I enjoyed them but they seemed to be missing a little extra "umph." Well … that is NOT the case here. Kurth's pencils are dynamic. Everyone looks distinct. Alongside
Martinez
's inks, we are seeing some great work from Kurth here. This team really makes each Joe stand out. It is detailed. The moments look dynamic. Really kinetic work from Kurth & Martinez.
The designs for the new Doc and Hashtag are fitting. The weapons and armor look good. The backgrounds are solid. The coloring by Joana Lafuente is good but there are a few panels that I thought would be better if they looked a bit darker. Still, a great job but the art team of the new GI Joe title.
WRITING:
Van Lente gives us a great look into the new premise of GI Joe. They are not only soldiers, but public figures. And while their real names are not disclosed to the public, GI Joe will be a more public group of protectors. And that does not agree with all of the Joes. The characterizations of the cast we first meet are all interesting. No one feels under developed here … save for Roadblock . Still, we get a strong look at how GI Joe now operates.
The pacing of the issue was really good as nothing felt slow and transitioned well. And the plot of Cobra taking over a town in the
Midwest
and luring out GI Joe is definitely a great one. It uses the new status quo against our heroes right out the gate and alongside the whiny of some of the other Joes that disapprove, Van Lente shows that this status quo will not be an easy one. This sets up story potentials on both sides of the conflict as well as professionally and personally for the Joes. I already feel that this run of GI Joe will be special.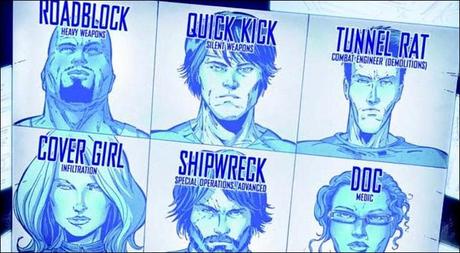 OVERALL IMPRESSION:
GI Joe # 1 settles in a nice opening for the new status quo for the Joes as public figures as well as soldiers. We have a diverse cast that deals with real life political issues as well as continue to show Cobra as a creditable threat. The art is solid and the writing is superb. I am looking forward to more of this series.
RATING:
I give GI Joe # 1 an 8 out of 10. Strong beginning. Could be a little better but still a good read.