The Elimination Chamber, Satan's Prison a structure of 16 ft (4.9 m) high, 36 ft (11 m) in diameter, weighs over 10 short tons (9,100 kg), and comprises 2 mi (3.2 km) and 6 short tons (5,400 kg) of chain

. One of the WWE's most terrifying and awing matches, where six participants partake in trying to eliminate one another until one participant remains deciding the victor. The match it self begins with two participants begin the bout in the ring as the remaining four are held within each inner enclosure and are released into the match at five minute intervals. Where then participants are eliminated via pinfall or submission! As of today only 15 matches have occured since it's creation in November 2002, and today I'll be talking about my Top 5!
Number 5: Edge (c) vs. Drew McIntyre vs. Rey Mysterio vs. Kane vs.

Wade

Barrett vs. Big Show for the World Heavyweight Championship
Event: Elimination Chamber (2011)
Date & Location: February 20, 2011 - Oakland, California

This was the final Chamber match the Rated-R Superstar, Edge would grace! He was the defending champion and managed to successful retain his championship during this match. However, before he actually successfully defended the belt he had to go through the other participants as he alongside Rey Mysterio were the first 2 to enter, and were the last 2 remaining, the second time to happen in Chamber history. Along with Edge and Mysterio walking in as the first 2, there was a lot of "controversy" leading into this match when Dolph Ziggler was removed from the match and replaced by the Big Show; due to Ziggler illegally being award the Heavyweight Championship a few nights prior on Smackdown only to lose it back to Edge. This made it into my Top 5 for the fact as stated several times that 2 participants that started the match were its last; with also Barrett and McIntyre being WWE's best rising stars the match would push them to their limits, while being put up against 4 of the company's best work horses they had. Anytime Edge, Mysterio, Kane and Show work together they usually can set a great pace and attention grabbing match, for even being the opening match on the card! Overall these 6 men, had what it really took to open the night and in my personal opinion should've actually closed out the card being that it was for a Championship!

Number 4: Batista vs. Big

Daddy

V vs. Finlay vs. The Great Khali vs. Montel Vontavious Porter vs. The Undertaker for a World Heavyweight Championship match at WrestleMania XXIV
Event: No Way Out (2008)
Date & Location: February 17, 2008 - Las Vegas, Nevada

This was the No Way Out that began the transition to having the Pay-Per-View being actually titled Elimination Chamber as it held 2 Chamber Matches on the card, both being Number 1 Contendership status for the main titles at Wrestlemania. Like the last match, this also had a very similar and amazing quality for it was the first to do it, by having the first 2 participants to start as its last men vying to main event Wrestlemania. With Batista and the Undertaker, opening the match they were then faced with defending themselves against the massively weighted Big Daddy V and large, the Great Khali. Batista, and Taker somehow managed to work together while still facing off with one another, while still having to eliminated the other participants, Finlay and MVP. An outstanding moment from this match was when the Undertaker hit a Super Chokeslam on MVP from atop a holding pod, several thought MVP to be dead, until he started to stir. In the closing minutes it was a back and forth match that eventually lead to Taker hitting a massive Tombstone Piledriver on Batista to sucure the final pinfall. This personally isn't the best match, I've seen but had several features allowing me to be left pleased. Things that I personally enjoyed was knowing it'd come down to both Taker and Batista, the fact no one obviously stood a chance against them and the fact Taker practically kill MVP with that amazing Super Chokeslam. I even think at one point in the match Batista tried for a Super Batista Bomb., which if would've landed had destroyed Finlay!

Number 3: Jeff Hardy vs. Chris Jericho vs. John "Bradshaw" Layfield vs. Shawn Michaels vs. Triple H vs. Umaga for a WWE Championship match at WrestleMania XXIV
Event: No Way Out (2008)
Date & Location: February 17, 2008 - Las Vegas, Nevada

The second Chamber match on the No Way Out 08 card, which was also another contendership match and the actual Main Event! This match however had three of the original Chamber match's participants, Jericho, Michaels and Triple H, men that have come seriously build the history and hype of these matches. Now during this match it was entirely explosive, JBL was eliminated and in a fit of rage returned to the chamber with steel chairs attacking the remaining participants, followed by Umaga destroying the remaining in which Hardy managed to slay the beastly Umaga with a Swanton from atop a holding pod and finally leading into final minutes of the match. Jericho was quickly eliminated by Michaels and Michaels by Triple H, leaving only him and Hardy to battle it out. Now it was at this point that where I as the viewer couldn't tell what would possibly happening next, as both men continued countering one another. The attempted chair shots, and finishers aiding with impacts a top the chairs. This match would come to a close as Triple H hit a Pedigree on Hardy at top a chair! This match overall really excited me as a view and fan of WWE, as this could almost rival my Top 2 Chamber matches of all time. When ever wrestling greats like Jericho, Michaels, and Triple H take to the Chamber they literally give their all. Then by adding in Jeff Hardy, amazing chaos always insues as you don't know what stupid or crazy things he'll do to send the crowd home happy!

Number 2: Triple H (c) vs. Shawn Michaels vs. Chris Jericho vs. Rob Van Dam vs. Booker T vs. Kane for the World Heavyweight Championship
Event: Survivor Series (2002)
Date & Location: November 17, 2002 - New York City, New York
The first 1st Elimination Chamber, where no knew what could or would happen! With a match like this, expectation were high as people flocked to witness this event take place at Madison Square Garden. The hype for the event was immense, with the return of Shawn Michaels, Triple H's feuds with both Kane and RVD, and Booker T along with Chris Jericho thrown into mix allowed of explosive varibles into this entire match. The match itself had several amazing features, RVD did a lot of inovating moves with the use of the Chamber, several of the superstars were eliminated via combinations of the other superstars' finishing moves and athleticism displayed was incredible. My personal favorite moments were when RVD hit a Five-Star Frog Splash on Triple H from atop a holding pod, the elimination of Kane and Shawn Michaels comeback from his hiatus to actually win the championship in only his second match back!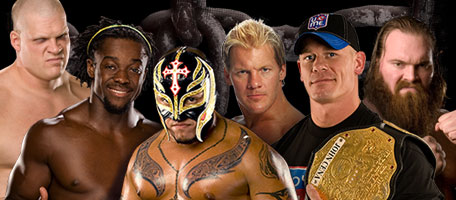 Number 1: John Cena (c) vs. Edge vs. Chris Jericho vs. Kane vs. Mike Knox vs. Rey Mysterio for the World Heavyweight Championship
Event: No Way Out (2009)
Date & Location: February 15, 2009 - Seattle, Washington

In all due respect to the original Chamber, it's not my personal favorite but holds a special place in my heart as a fan. However this match at the 2009 No Way Out PPV had something that utterly made as my Number one; that is Edge sneaked into the match in a devious way after already losing his WWE Championship in the first Chamber match of the night. Anyways as Kofi Kingston who was originally intended to be in the match entered the Chamber and try to access his holding pod, Edge jumped him from behind and locked himself in. Since the refs couldn't get him out of the Chamber they were forced to let him into the match, and it was to go on as scheduled. During the match Mysterio awaited Edge's release to get payback for his friend Kofi, along with that as Edge entered the match he was shortly followed by reigning champ, John Cena. Cena, blitzed Edge for his possible same reasons as Mysterio while restarting their amazing rivalry. In doing so this also lead to Cena's defeat as Mysterio, Jericho and Edge attacked him with their finishers combined to eliminate him. At this point being a anti-Cena fan, was the best part of the night knowing now personal favorites Jericho or Edge would become World Heavyweight Champion yet again. Eventually it'd come down to both Mysterio and Edge, the men that both helped start this top 10! When in result the two warred with one another for a few minutes until Edge hit a Spear followed up with a pinfall! This honestly was my favorite mostly for being an Edgehead, he's one of my personal favorites of all time and he really brings in alot of attention being face or heel. Since he was heel at the time and the way he entered into this match was radical, it really took a fan by surprise since something like this never happened before! Finally, the fact that the expression on his face when he got that pinfall on Cena when eliminating had me histrically full of joy, seeing Cena wasn't walking out with that beautiful World Heavyweight Championship!

In all honesty I've enjoyed counting down my Top 5: Elimination Chamber matches and hope one day to expand it to a Top 10! As for now I hoped you enjoyed my personal five, and if you didn't please comment on it; Whether it be here or Twitter! For personally, wrestling is a great hobby of mine and I do really enjoy conversating about it. Even if everyone doesn't see eye-to-eye on most subjects in the wrestling fan community, there's still a lot more respect for one another than in other fan communities I'm apart of.