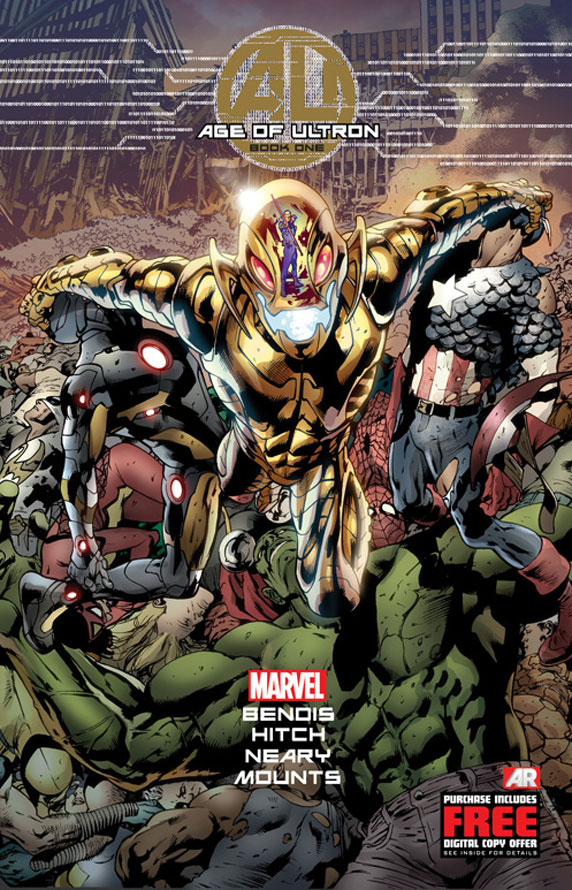 It took a little bit longer than we all first thought, and I am sure longer than Marvel wanted it to start with, but Age of Ultron has finally made it to print after first getting teased back in 2012 on Free Comic Book Day and also in Avengers #12.1. What was a bit of a mystery to the story of the book and how this would connect into the Marvel Universe in another major shakeup event or would possible be a standalone possible story line like Age of Apocalypse back in the day? It turns out that it is more the former while also adding a little bit of the latter to this mix. Before the issue hit the stands there wasn't very much to know about the story other than a simple premises that Ultron Won. And if you get that the first issue of the series just goes straight into this world without really stopping to let you in on the when and how that happened.
One of the things to take away from this first issue is just how lucid it is, Bendis is often criticized for being able to only write a book of talking heads issue in and issue out. Here though he seems to show he can add in straight forward action from page to page. Without disheveled Hawkeye running into a building to rescues a teammate and friend in Spider-Man, Which version of Spider-Man classic Pete or newer Octo-Pete is yet to be determined. With Hitch able to draw out the action in such wonderful ways. Hitches art also lends well to the environment around the city given off the destroyed world and mixed with the techno metropolis that is replacing some of it around.
In an odd twist though while the setup lay out, and action of the book makes for the book to be an enjoyable read, the fact I wouldn't mind some back story to how and why this happened would be a bit refreshing as well. So far a lot of information about this world is in the dark, if issue one is just the hook to the series one can hope some questions will be answered in the upcoming ones as well.
There is also a lot of choices in the art work as well, She-Hulks extremely short hair, Tony's Tron look,
Wolverines as well. The body scanning to see if they are 'clean'. All of this might leave a reader more than a little confused on what is going on and what suppose to be going on.
This might all just point to this to this alternate time line story that is being built and might just be one and done items for this time line. The biggest problem is this newest event could all be too much too soon. From so short of time since Avenger's vs. X-Men, to the Marvel NOW launches, one could easily get overwhelmed by such a massive event going on right now. But, that could be all for nothing though, if this just alternate time, once it is done it might just be something to look back on much like Age of apocalypse. All in all it is a good read with just a few blank spots that needed to be explored as the series continues.
OVERALL 7.0 out of 10
Bryan "BAC" Clendening writes for Broken Infinite as a comic reviewer. You can follow him on Twitter @BAClend