Now, every week, our CBC staff will give you their thoughts on what we read was awesome this past week. These books do not necessarily have to have come out this week but something we read this past week. So here we go.
From Hector Ramirez:
My awesome moment of the week is a bit of a spoiler. It happened at the end of Ultimate X-Men in a flashback, Rogue remembers her prayers being answered by none other than Professor Charles Xavier. I think this is an awesome moment because one Professor X has been presumed dead since Ultimatum and to Rogue replaced him in her explanations with God to me that says that she holds this man in high regard.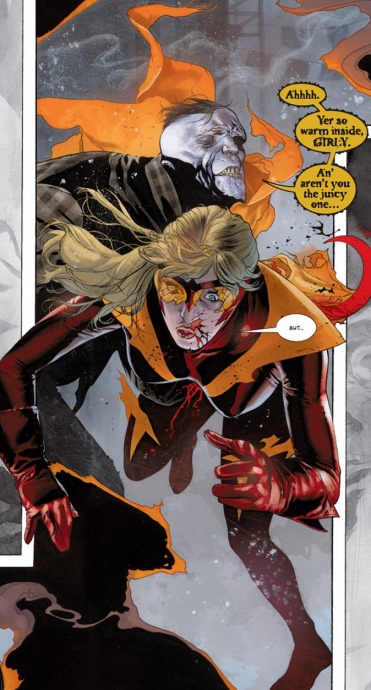 From Darryl Carter:
For me my epic moment was really for last week, but what the hey. I actually don't think epic is the word... but the moment is definitely Kate Kane (Batwoman) getting her hedges clipped by Det. Maggie Sawyer.
But that's not all, no, no, no... Kate is feeling ecstasy while her younger cousin, Bette (Flamebird), is getting her guts pulled out on the cold, snow white Gotham streets... That was ridiculous and messed up. It made
me laugh and yet... at the same time, it unsettled me.
From EIC Frankie Rodriguez:
My moment of awesome is coming from none other than IDW's Transformers: More Than Meets the Eye # 1. Prowl and Bumblebee have been having issues with Rodimus leaving with a bunch of Autobots to find the mythical Knights of Cybertron. Bumblebee doesn't take it well, especially when Rachet reveals that he'll go with him after an Autobot dies from transforming too much. (No. Not the awesome moment.) It is the fact that after Prowl is stunned by Chromedome deciding to leave, Prowl takes matters into his own hands. As the ship with Rodimus and the Autobots who decided to go with him launch, just as it goes to hyperspace, it blows up. Prowl . .. Mr. Straight Edge Autobot himself . . . planted a bomb to keep Autobots from leaving because he doesn't believe in Rodimus's quest for the Knights of Cybertron. Yet, unlike Prowl's plan, the Ship blows up after it has gone to warp. So, Prowl is now responsible for a possible 40 Autobots dying or being lost in space. Yay. Way to go Prowl!
Hey everyone! We'd like to hear from you. What was your favorite comic book moment of last week? Remember, it does not even have to be a book that just came out, just a comic you have read in the last 7 days. Send them in to francisco.k.rodriguez@gmail.com. Till next week, Keep Clashing! (Yes, I am stealing Hector's line!)
AND NOW ON J1 STUDIOS.COM:
It's the new, BRAND NEW, Super Mario Dubstep Album. Listen as your favorite music from Super Mario has been transformed into remixes. The album is so addicting, you will feel like you're an addict!
GREEN MUSHROOMS & SUPERSTARS
From J1's own Shinigami (Ray Riley) & Forafire (Forrest Shamlian
). FREE TO DOWNLOAD! NOW!
And don't for get the recently released Sonic Remix Album, SPIN DASH AUDIO is also available now.
It's like CRACK TO YOUR EARS! LISTEN NOW! FOR FREE!!