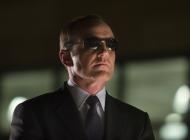 Yes, ladies and gents. Agent Coulson lives. As confirmed mere moments ago, actor Clark Gregg will reprise his role as Agent Coulson in ABC's SHIELD tv show, which is directed by Avengers director, Joss Whedon. The fan favorite character gets new life on tv as the live action show focuses on SHIELD itself. The pilot will be written by Joss Whedon, Jed Whedon and Maurissa Tancharoen.
Joss Whedon was shown on a video about the upcoming tv show stating: "There was never going to be a SHIELD Show without Agent Coulson."
Gregg added, "Haven't you ever heard of a life decoy model."
Fans were ecstatic by the news, hyping up the shows premiere in 2013.