SHADOWMAN #1
Written by Justin Jordon & Patrick Zircher
Art by Patrick Zircher & Brian Reber
Valiant Comics


Review by Frankie Rodriguez
INFORMATION:
Shadowman was one of the first original creation of Valiant when it started back in the 90s. It had been one of the most popular titles back then ... with even Aerosmith guest starring in an issue. I'm not kidding. Aerosmith in a superhero comic. But Shadowman was not the typical book. It had it's heroics but it had a charm to its hero, Jack Boniface that made you wonder about him and the legacy he had as Shadowman.
While the book eventually ended with Valiant during its original run, it has often been one of the most highly favorite books of the line. Now, we are in the present day with a Valiant relaunch. While it was not one of the books to start in the summer, it just came back last week. So now, let's see what the revamp has done for Jack Boniface.
FLIPPING THROUGH:
Interest. Opening up with a Shadowman that is not Jack. Oh WOW. Invaded by ... zombies? Demons? HOLY CRAP ... YES!! Master Darque!!One of Valiant's greatest villains. Wow! This is awesome. Oh crap. No! NO!!! Oh ... that was in the past. Okay.
Jack Boniface ... man of mystery trying to sort out his own it seems. Slight flirting happening then he goes to his job. Oh ... wait. Police checking out ...
OH ... I have NEVER seen Zircher draw something that gory before. *begins to coo like a school boy on Christmas Day before opening presents*
Okay. That was just disgusting . .. and awesome. Oh wow! Y ES! YES! YES!
And those are my reactions while reading Shadowman #1.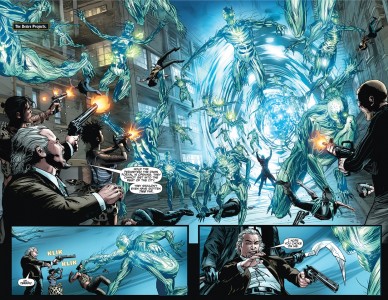 ART:
Okay. I am going to be blunt. I can say without a hint of doubt that these are some of the best pencils I have ever seen in any book ever. I have been collecting comics for over 20 years .. .seen artists come and go. I have event followed Patch (as he is sometimes called) work since his run on New Warriors in the 90s. I have seen this man's work for years. Yet, Shadowman ... has sparked something with in him that explodes on to the page. Panels are clean, sharp and appearing. Characters are easy to recognize. Tone and emotion jumps up and dry humps your eyes in every single panel.
The rich inks help make Zircher's pencils dance off the pages. You know the artist loves what he's doing when you get a point in his or her work where it really makes you look at each and every panel over and over again. Reber's colors only enhance and intoxicate you with their diversity and richness. When you need the light, down to earth scenes .. . the colors are vivid and rich. When you need them for a darker, violent scene, Reber's tones reflect the disgusting underbelly of sin with those panels.
The art alone is what make this book worth the cover price.
WRITING:
Justin Jordon and Patch Zircher really make Shadowman their own and thank the gods that they do. We get a rich history in the first several pages with Jack's father being a previous Shadowman. We get some wonderful mysteries about Jack and his parents. We get MASTER DARQUE! GOD! Long time Valiant fans have been waiting for Darque for sometime. This ... this brought him back in style and glory.
The pacing of this book is excellent. It does not feel fast like other books and it really plays off its story beats extremely well. I want to know more about this Jack Boniface and Dox. Mr. Twist looks like a great starting villain for Jack to deal with. And I love that we are getting this all in New Orleans once again. Jordon and Zircher give you hints of the past with some great set up in the future as well as leave you wanting more. You can tell that this book is important to them and to Valiant and really displays smart writing on their part. The dialogue felt real and there is so much more I am looking forward to.
OVERALL IMPRESSION:
Shadowman is a testament and a shining beacon of excellence of the new Valiant. Exceptional art. Multi-layered storytelling. Likable but human acting characters.Interwoven plots and various mysteries topped with dangers and legacy. Shadowman has this in spades. It has truly become, in my mind, the stand out book of the line. EVERY BOOK should been this good.
I personally thank the creative team of Shadowman and Valiant Editorial for bring such a wonderful, exceptional comic that I will be reading for years to come.
Make sure you buy this book. Then make your friends buy it. Then their parents. I like to read this book with this creative team for as long as it can possibly go on. Jordon & Zircher have really made Shadowman theirs and I want to read their 100th issue of it down the road. Shadowman are what comics should be.
This book has already become one of my favorite comic books of all time with it's first issue. With that said, I give this book a 5 (really a 7) out of 5. Pick it up NOW!