Depeche Mode:
Black Celebration
And Some Great Reward
Review
** Broken Infinite has reached it's 1 year anniversary, whenever something special happens I always plan a million reviews and usually accomplish a handful. This may or may not be my only review to celebrate the special occasion. Happy 1st Birthday Broken Infinite. **
I really wanted to start out by saying, If you don't know Depeche Mode by now you should feel bad about it. However, I don't like seriously shaming people for not knowing a certain band, genre, artist, or anything of the sort. So I'll start by saying, I'm finally reviewing Depeche Mode.
I can't speak for everyone, but look at the alternative side of the music spectrum and just about all of them state Depeche Mode as one of their musical inspirations. It almost seems like it's all hype from how many bands state this, but it's not. Depeche Mode did great things for the Electronic genre.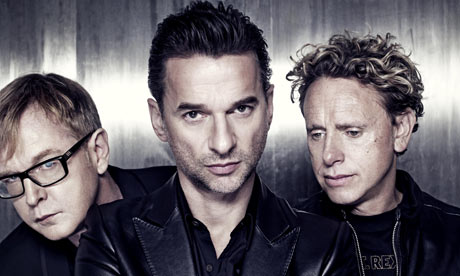 Thanks to Pandora I have reconnected with my love for this British band from the 80's. Composed of Dave Gahan on lead vocals, Martin Gore (backing vocals, keyboards, some lead vocals, and guitars) and Andy Fletcher playing keyboards as well along with backing vocals and bass guitar in the 80s, they made the list of 50 Bands Who Changed The World (Q Magazine.) They've inspired generations of musicians, and they're still touring, making new albums, and being completely awesome.
Their name is French, it came from a French Magazine, but Gore commented that it means "Hurried fashion or fashion dispatch. I like the sound of that." However in the French language it means something along the lines of "Fashion News," or "Fashion Update," only relating to the magazine they took their name from.
Fun fact time: The first time member Martin Gore remembers playing under the name Depeche Mode was at a school gig in May of 1980. They'd previously used the name Composition of Sound and they had different members back then too. When the band first formed Vince Clarke was in the band, and when he left a guy named Alan Wilder. Alan left in 1995 and the band continued on as it's currently is, with Dave Martin and Andy.
They didn't start out with their songs containing dark subjects and melodies, Speak And Spell was written by Vince Clarke, when he left, Martin Gore took the song writing job duties and that's when Depeche Mode when dark.
"Just Can't Get Enough,' one of the singles from "Speak and Spell,' helped put the band in the spot light in Europe and some other countries. Some Great Reward helped them achieve international success. "People Are People," one of the singles from that album went to number 2 in Ireland, 4 in the UK and Switzerland, and number 1 in West Germany. The US was a little slow in catching on to the Depeche Mode craze and it only went to number 13. It did become an anthem for Gay Pride festivals and the LGBT community in the 80s and that's always a win.
"Blasphemous Rumors and Some Great Reward"
"People Are People," is the third song off the album. That song while not a chaotic mess, has a lot going on in the beginning and it's beautiful. This needs to be like the anthem to solving bullying and mistreatment of people for no reason. I don't know whether the song was intentionally written for that purpose but truer words have never been sung.
Despite the great things this song could do for the world, supposedly, Martin Gore hates it. It has not been played live since 1988 and he says he prefers his songs to have subtle metaphors to allow people to find their own meanings to his songs. He feels people are people does not fit that description. I think he likes to be a Debby Downer.
The other song I really wanted to talk about is Blasphemous Rumors. The six minute long song about "arbitrary divine justice."
I had a slight idea they'd be saying something possibly shocking to religion. Context wise, it's not that shocking but to the overly religious person they might take offense to it. They're not trying to offend they're telling a story and a very relate-able one at that.
Some people find religion in dark times and other people start questioning it. A mother finds her 16 year old daughter tried to commit suicide, she didn't succeed, and I don't know if she's the same girl in the second half of the song. If she is, then two years later, she rediscovers religion and one day is hit by a car and dies. If she's not then the song is from the band's point of view adding maybe a personal outsider's element to it.
Then this line happens, "And when I die I expect to find him laughing."
That kind of threw me through a loop only because of the image it put in my head, however explaining the whole thing requires a very long drawn out discussion on religion I don't feel like getting into.
Taking a few steps back to the beginning of the chorus, it's so catchy. Hell it's so catchy I almost didn't recognize how dark it actually was until I listened to it for the fifth time and realized there were actual verses. When I write anything I've been letting Pandora play and I completely missed the first two verses but caught the choruses and then the last verse before the repeated choruses.
Master and Servant is about BDSM and it was banned from a few stations due to this. The world should have realized you can't keep Depeche Mode down, it made it to 87 on the billboard hot 100 chart for three weeks. It also tries to have a political element or something to it but it's about sex and we all know it. The song is great, I heard it on their Best Of... Volume 1 album, but that was during a time where I only cared for "Enjoy the Silence," and "Personal Jesus."
"If You Want To" was one of the songs I hadn't heard until listening to the whole album for this review. It gives off unnecessarily creepy vibes, and I say unnecessarily because the song doesn't need to be anywhere near as creepy as it comes off. It's rather vague in context, is it about a party, is it about doing drugs, or could it be about hooking up with someone?
Black Celebration
Depeche Mode's musical genre shifted slightly when the world heard their album Black Celebration in 1986. They gained a reputation in the Gothic subculture of Eurpe and became teen idols as well. Black Celebration according to Wikipedia, 'moved away from their industrial - pop sound that characterized their previous LPs," I didn't know Industrial pop was a thing... The album did bring in the dark and ominous as well as atmospheric sound.
"Here Is The House," the second song to motivate me to review Depeche Mode. This was also the second song Pandora introduced me to. I firmly believe this song is about someone having sex as well. I tried searching Google, and Google had no idea what I was talking about it. I also heard somewhere that there's a period of songs from a certain time that are just all about sex. I have no idea where I was when that information entered my brain, but I don't think I'll ever find it again. The only thing I can confidently say is that I was hooked the minute it started. Then the first verse ended and that riff starts the brief instrumental part between twenty seven seconds and forty-two seconds, I was completely sold by then.
As I was listening to this the other day I realized as much as I don't care for religion, it could be spun to be a religious song if not religious then very spiritual song. I think even if it's not meant to be a cute song, the original context was that it's a sexual song. I also wonder if it's about cheating. Why else would someone randomly be calling on the phone and no one answer it, well I don't think anyone answered it. That makes it even more mysterious, this song makes me think and I like it.
I didn't care for "Black Celebration" or "Fly on the windscreen". Question of Lust was the big song from that album and it deserved to be. "Sometimes" is the song Martin Gore took the lead vocals on and I couldn't understand what was happening. The echo was a good idea but make it clear enough that a call and response vocal works. It doesn't work when it's one second early and then the rest are all thrown off. It sounded like it was all piled into one mess of a song. "It Doesn't Matter Two," has to be the most annoying song I've ever heard from Depeche Mode. I could hardly hear Dave over the instrumentals and only halfway through does it stop and I can hear him sing.
Other than a few songs on side two the 'dark' tone Depeche Mode tried to establish for themselves, doesn't really hold up. The sounds might sound heavy and dark, but unless I'm missing something, the actual product is just a major flatline. "Stripped", "Dressed in Black," and "New Dress" kept the 'dark' themes up very well. "Question of Time" is pretty tolerable though, I liked that one but it doesn't hold up to "Stripped" and "Here is the House."
"Dressed In Black" I thought I was listening to Dead Can Dance. I don't know how or why Dave managed to remind me of Dead Can Dance but I don't like it at all. Now I don't completely hate Dead Can Dance, but those two bands are on two different levels of the music spectrum I can't even begin to compare the two.
"New Dress" I am guessing this has all to do with politics and how the media sucks at covering things. People suffering and dying all over the world and all anyone cared about was Princess Dianna's new dress she might have wore. I didn't expect this song, it hit me like a ton of bricks. Did everyone just forget this song exists, I feel like it deserves to be relevant again. It might not be the greatest Depeche Mode song but the world needs this song back in their faces again.
I think I should state this now, these albums came out over twenty years ago and Dave Gahan's voice hasn't changed a bit. Through the drug addiction, through all the singing and stress he put on himself from being in the music business, the vocals he recorded on a CD so many years ago sound the same now. I find that awesome.
Overall this was a really disappointing review. I thought I would have a lot more fun with this. I hardly made it through some of the songs but I did so I could form some opinion on it. I don't expect every song to be a smash hit because that's insanity but even for the songs that wouldn't normally be a hit song they should still be generally good. Some of these were terrible. I think this album is telling a story, but I don't know what about, some songs seem to be about some relationship and others are about politics and then there are some I have no idea what the lyrics are about.
I hope my reviews of Seabound, Iris, and Neuroticfish aren't as disappointing.