Welcome to this week's news highlights.
DC CREATIVE TEAM CHANGES CONTINUES; MARZ OFF VOODOO & MORE
By Frankie Rodriguez
Last week, we were talking about how Marvel was scrambling with all their recently axed projects. This week, DC seems to be dealing with a lot of changes but no cancellations . . . at least not yet. There have been several rumors and there have been reports confirming the changes. DC seems to have been extremely proactive in making sure their books are on time as well as making sure that their books are selling well. And while there has been no statement flat out confirming that if a book does not do well that they are gonna change things . . . Ron Marz seems to be the latest casualty.
It was confirmed on Monday morning that Ron Marz has been taking off the Voodoo ongoing for DC. Marz, a veteran scribe and man who kicked off the new ongoing, recently stated that DC Editorial was changing for Voodoo and they told him that they wanted to go in a new direction. This is of course, mere issues after the series began. Marz's final issue of Voodoo will be number #4, even though he was originally solicited to write issue # 5. Was this due to pressure from the controversy of its first issue or from lagging sales, no one can say for sure.
Here are some comments from Marz about his recent lay off:
The only thing I was told was that they wanted a different direction for the book. I had a 10-minute phone call with the outgoing editor, who gave me the news. I asked what direction they wanted, but since the editor was leaving staff the next day, he didn't really know. So that's all the information I was given. I haven't heard from anyone else, beyond a call from the book's new editor to work out details on my last issue.
I have to admit, I was pretty surprised, since I'd been making the revisions and changes that had been requested by editorial as the book evolved. But it seems like they want something other than what I was giving them. Obviously I'm disappointed that I won't get to continue the story we began telling, and I'll certainly miss working with the art team of Sami Basri and Jessica Kholinne, who are doing amazing work on the series. I wish them and the new writer much success as Voodoo moves forward. I still feel like the New 52 was a very bold and positive move for DC, and for the industry as a whole, and I'm glad to have been a part of it.
Marz later thanked everyone for their support of his work on Voodoo on his twitter Monday afternoon . And with that, Marz is off the book but not the art team. Sami Basri will continue with new writer, Joshua Williamson, who currently writes the Uncarted video game adaption for DC. Yet, This is not the only change.
George Perez was confirmed to leave the book after issue # 6 of Superman, to be replaced by the team of Dan Jurgens & Keith Giffen.
Jurgens will stay on to co-write Green Arrow till Ann Nocienti's first issue but not draw it. New Green Arrow artist will be Ignacio Calero.

Lopresti and Ryan will be leaving art duties for Justice League International to Marco Castellio.

Jesus Saiz will no longer be ongoing artist for Birds of Prey, being replaced by Javier Pina. And George Perez confirmed to be drawing at least 1 issue of Birds of Prey as well.
Federico Dallacchio will be leaving Suicide Squad, to be replaced by long time Marvel artist mainstay Tom Raney.

Gail Simone confirmed she will be leaving co writing duties on Firestorm to work on a brand new group of Teen superheroes for DC at a recent convention.
Gianlua Gugliotta & Wayne Fauncher will no longer be doing art duties on Mr Terrific. Writer Eric Wallace will be joined by new artist Oliver Nome.
All these and not to mention the slew of artist doing fill in issues and new directions for some titles here and there. Didio stated before that DC was committed in making sure DC's books come out on time and they are not pulling any punches. But what do these creative shake ups all mean. Between Marz recently walking papers off Voodoo to Simone's leaving Firestorm for a new team book; DC is seemingly making sure they keep their books interesting and selling. Yet, will this strategy work out for them. We will have to wait and see.
BOOM! STUDIOS REPRINTS STEED & MRS. PEEL FROM MORRISON
by Frankie Rodriguez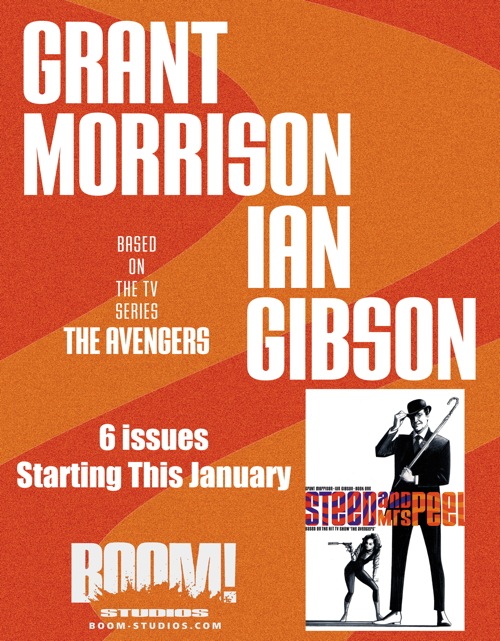 BOOM! recently had solicitations of a brand new 6 issue miniseries from prolific and fan-favorite scribe, Grant Morrison and artist Ian Gibson. It details adventures of Steed and Mrs. Peel from the popular British television show, The Avengers. Yet, there is something that BOOM! has not mentioned to other fans . . . that it's actually a reprint.
The original printing of the series, done under Eclipse Comics, was issued out around 20 years ago. The format of the series was prestige, so it was basically 3, 48 paged issues. BOOM! is splitting it into 6 issue and releasing them in January. So for those who missed it or just love Grant Morrison work, you can grab the issue of this cult classic adaptation.
MARVEL SEASON ONE GEARS UP TO ATTACK READERS
By Frankie Rodriguez
Marvel has been making their own strides to bring new readers in in various ways. From there new Point One issues to the Ultimate Universe, Marvel has been working hard on creating new places for readers to come in and get caught up into your world. Now, Marvel's latest innovation is the Season One books.
Season One will be a set of graphic novels that will retell the origins and early stories of some of Marvel's iconic characters in a fresh new way. Not to be confused with its own universe, these stories are merely retelling of original tales in new ways. The books will average about 136 pages that will each bring these retellings done by different art times and available with a free digital copy of these books when you purchase them.
The Season One first waves include:
Fantastic Four: Season One will be written by Roberto Aguirre-Sacasa with art by David Marquez coming out in February.
X-Men: Season One written by Dennis Hopeless with art by Jamie McKelvie will be released in March.
Daredevil: Season One written by Antony Johnson with art by Wellinton Alves seeing shelves in April.

and
Spiderman: Season One written by Cullen Bunn and Neil Edwards to appear in May.
Dennis Hopeless commented on his upcoming X-Men: Season One release:
Our story is actually split into somewhat self-contained chapters. I wrote it just like I would a miniseries. I guess I took the "Season One" thing literally because it's structured a lot like a short television series. One story told in 5 episodes.
Continuity can be intimidating to the uninitiated. But these stories take place

before

most of the continuity happened. The reader doesn't need to have read anything else when they pick up a Season One book. As far as they're concerned, this is Marvel Universe day one.
It's just such a great premise. You have mutant teenagers trying to figure themselves out in a world that hates and fears them. And a rich bald mindreader who thinks he can change the world by training kids to be freedom fighters. That's brilliant.
I love writing the original five as teenagers. They're all messed up in such interesting ways. They trip over their own feet and hurt each other's feelings and fall in love every ten minutes. Just like we all did. But these are X-Men, so afterward they have to go out and fight Magneto.
All Season One books will come shrink wrapped, similar to polybagged comics with the code for a free digital copy with around 136 pages for $24.99 a book. The first Season One graphic novel, Fantastic Four: Season One, will hit stores in February.
VIDEO OF THE WEEK:
In honor of it being aired during the premiere of Green Lantern: The animated series:
IDW & TRUMANS GO WEIRD WESTERN WITH HAWKMEN
Directly from IDW site
All-new miniseries illustrated and co-created by comics legend Tim Truman
San Diego, CA (November 15, 2011) — IDW Publishing is proud to announce the launch of HAWKEN, the all-new weird western series co-written and drawn by Tim Truman, best known for his work on Grimjack and Hawkman. The industry legend teams with his son, writer Ben Truman, to co-develop this original series.

"I've been affiliated with a lot of great co-creators and titles in the past, but I can safely say that none have effected me the way HAWKEN has," says Tim Truman. "Something happened while doing this project with Ben. As far as my artwork goes, it's been shot full of high-octane fuel."

Starting tomorrow, HAWKEN follows the tale of Kitchell Hawken, an old man in search of revenge against the Ring, a brotherhood of arms merchants and corrupt politicians who once employed him. Scalped, tortured, and left for dead by the Ring, he arises from his near-death experience able to see the ghosts of everyone he's killed. Are the phantoms real, or illusions from Hawken's blood-soaked past?

"The ghosts provide a direct link between the readers and Hawken," says Ben Truman. "He's a tough old bastard on the outside, but his relationship with the ghosts provide insights into his inner world. I think readers will come for the two-fisted, six-gun action and stay for the character."
In addition to co-writing
HAWKEN
,
Tim Truman
will also provide illustrations for this six-issue series using his Wild West-style art to bring this eerie story to life.
"Shepherding HAWKEN has been an absolute pleasure, very much the opposite of the character himself," says editor
Denton J. Tipton
. "Ben's scripts are tough-as-nails and have spurred Tim into producing some of the finest work of his career. Saddle up and come along for the ride of a lifetime, or afterlife, as it were."
Readers are encouraged to ask their retailers about the special "wanted poster" edition signed by
Tim
and
Ben Truman
.
HAWKEN #1 ($3.99, 32 pages, partial color) will be available November 16, 2011.
And this week . . . J1 AN-EX 4
Where J1 Studios, including us here in Comic Book Clash, will be out in force.
Till Next Week, Later!